Rooms & Amenities
When you book with The Ponce St. Augustine Hotel, you will find affordable room accommodations for any need and budget. From comfortable rooms and beds for an unforgettable family vacation to great lodging choices for any business trip, we have the room that you need each time.
Our standard guest rooms come with two queen beds, as well as standard amenities like an in-room mini-fridge, cable TV, microwave, and complimentary Wi-Fi. For those looking for a larger bed size, you can enjoy a standard guest room with a king-sized bed. Or, if a suite is a better option for your needs, you can enjoy a larger room size, either with two queen beds or a king mattress. No matter which room is right for you, you'll find the best deals on your stay with us.
Accessibility: The Ponce St. Augustine Hotel has three wheelchair accessible rooms available to book. We offer two 2 Queen Beds Rooms and one 1 King Bed Room. Click here to learn more about our accessible accommodations.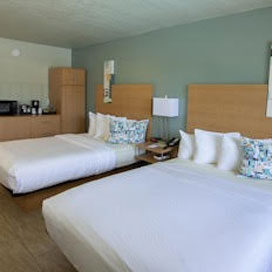 2 Queen Beds Room
Two comfortable queen-sized beds await our guests in our standard room offering. With free cable TV, high-speed Internet, in-room refrigerators, and more, it's easy to save when you book your hotel rooms with The Ponce Hotel. Be sure to stop by our restaurant for a delicious breakfast to start your day in St. Augustine.
There are two rooms of this selection that are wheelchair accessible.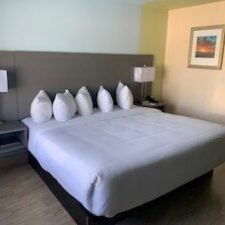 1 King Bed Room
Smaller traveling parties and those looking for a larger standard guest bed can enjoy an upgraded guest room choice with our largest king-sized bed. Perfect for the business professional on the go, or for a romantic couple's weekend, our largest guest bed is a great deal for more visitors.
There is one room of this selection that is wheelchair accessible.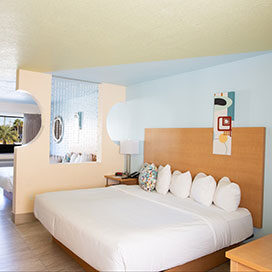 2 Queen Beds Suite
With our two standard guest bed sizes offered in a larger room, the two queen bed suites are the ideal choice for larger traveling groups. With spacious sleeping arrangements, a separate sitting area, and two flat screen TV sets, you can enjoy better accommodations when you book with our hotel.
Outdoor Pool
If you prefer to stay with us for a relaxing trip instead of a day of exploration, you will love the outdoor pool at The Ponce Hotel. Whether you want to work on your tan, swim some laps, or even relax in our outdoor Jacuzzi tub, we have the outdoor recreational offerings that you enjoy the most. Perfect for a quiet day alone or family entertainment, you can enjoy the Florida sun in a peaceful outdoor patio area.
Free Internet Access
Staying in a historic city doesn't mean giving up on the modern amenities that you've come to expect. All of our guests can enjoy the convenience of free high-speed Internet, which can be enjoyed from the comfort of your spacious guest room. Or, if you prefer a personal computer over your handheld device, we offer a guest use business center in the lobby area. Stay connected the way that you prefer.
Free On-site Parking
One way that our guests experience a better value on their hotel stay is with free on-site parking. St. Augustine has long been regarded as a "walking town", and with many area offerings being less than a mile from our lobby, you can enjoy the added convenience of leaving your vehicle with us as you explore. Most visitors prefer to walk or take the Old Trolley Tour, and parking with us is as affordable as it is simple.
On-Site Restaurant
Business Center
24-Hour Front Desk
Accessible Facilities
Mini Gift Shop
Guest Use Laundry Center
Small Pet Accommodations*
Electronic Door Locks
Free Movies
Flat Screen TVs
24-Hour Security
Guest Amenities Package
 Please note that our resort fee includes all of the amenities listed above.
*Pets allowed for an additional fee of $30 per night. Pet weight limit is 30 lbs. Max of 2 pets per room.